Vacancies
If you are a WEB-designer and consider your designs competitive with ours - just create it! We put up your work for sale. You set the price and we will take a modest commission of 20%.
Offer your design
CJ-Tube WEB-design
Design of three pages: home (categories, models), listing (niche page, search) and video page.
We offer ready-made templates for websites. The template uses responsive layout. The logo and the size of the thumbs are changed for the specified project.
All templates are sold once!
The price is only for the template. Set up design on the tube engine from $100.
TopList WEB-design
Top-list design comprises 25-30 pages. We call your attention to the samples of a toplist home page and a toplist participant zone pages. We intend to create the rest of the pages and the toplist title during one week.
Custom-built WEB-design
Our team of talented designers, artists and experienced programmers is ready to build any degree of complexity site, involving various Internet technologies and original artistic design.
Our sphere is a small-scaled site of original design and easy navigation. We are not afraid of hard work, which demands the knowledge of programming languages.
Your order will be performed on-the-fly and in workmanlike manner.
Finished designs samples:
The pricing is at the designers' competence; we only sell their design.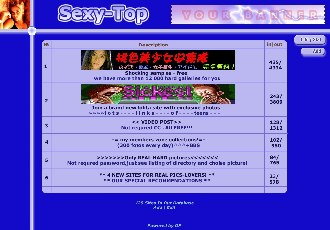 SuperTop $85
HTML/JavaScript
Sold
Top-List design with the application of JavaScript.